Voith's Digital Hydro Solutions team helps customers reduce downtime and operate hydro plants more efficiently. As more countries add a mix of renewables to meet carbon reduction goals, the team continues to research how hydro plants can maximize performance and deliver power grid flexibility. In this interview, Dr. Alexander Jung, Voith Hydro's head of Digital Hydro Solutions, talks with Hydro Leader about his company's solutions and its involvement in XFLEX HYDRO, a European Commission–funded demonstration project on flexible hydropower technologies. 
[siteorigin_widget class="SiteOrigin_Widget_Headline_Widget"][/siteorigin_widget]
Hydro Leader: Please tell us about your background and how you came to be in your current position. 
Alexander Jung: I studied mechanical engineering at the University of Stuttgart and Northwestern University. I got my doctorate degree from the University of Stuttgart in 2000. I've been in the hydropower business for 18 years. I was a research assistant at the University of Stuttgart, and after I got my doctoral degree, I worked for Siemens Power Generation in the development of gas turbines for power generation purposes. In 2004, I joined Voith as a hydraulic design engineer for water power turbines. I was involved in projects such as the design of a big Francis turbine for a project in Canada, the largest reversible pump turbines in South Africa, and a very-high-head single-stage pump turbine in Austria.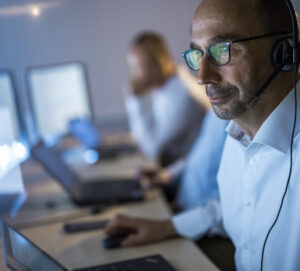 In 2010, I took over the responsibility for hydraulic design methods at Voith Hydro, and in 2016, I became responsible for all methods required to design hydropower turbines and generators. In 2019, we launched the Digital Hydro Solutions organization to create diagnostic and monitoring solutions for the power plants, and I became the head of that team, with overall responsibility for the respective product build activities. 
Hydro Leader: Please tell us about Voith Hydro. 
Alexander Jung: Voith started in the middle of the 19th century, when a German locksmith invented a device to shred logs for the paper-making industry. His invention was a big machine that needed a lot of power. A nearby river had the potential to provide the required power, but up to then it had only been tapped by traditional water wheels, so he developed modern and more-efficient hydro turbines. The company was incorporated in 1867, and today, it has three divisions: Voith Hydro, Voith Paper, and Voith Turbo. A large share of the world's paper is produced on our paper machines, and a quarter of the energy generated worldwide from hydropower is produced with turbines and generators from Voith Hydro. Voith has grown into one of the largest family-owned companies in Germany. We have about 20,000 employees in 60 countries and 4.5 billion euros ($5 billion) in sales. 
Hydro Leader: Please tell us about the services provided by Digital Hydro Solutions. 
Alexander Jung: As part of ongoing discussions with our customers about how we could assist them in their move toward digitalization, we have worked closely with our customers to collect and structure plant and operation data, detect anomalies, and find the right solutions. One of the products we offer is OnCare.Diagnostic. This product takes automation data and condition monitoring data from a plant, of which there are a vast amount available. We understand customers' systems, their components, the related signals, and the different operating modes, so we can analyze the data and identify anomalies that may signal problems that could lead to failures. This helps plants transition from scheduled maintenance to condition-based maintenance, thus reducing maintenance costs and avoiding unplanned outages. 
Based on all these insights, we deliver periodic digital health assessment reports. We analyze the data with our diagnosis system, making use of our 155 years of hydropower experience. That experience helps us understand what the data describe. Other, more general data collection service providers don't necessarily understand what the data are about. Our promise is that if we have the data, we can give you actionable advice on what's likely to fail in which component and at what time. We're receiving excellent feedback from our initial customers, and now we're doing a larger-scale launch for this product as well as for a more basic, on-premise variation. 
Another facet of our service is advanced monitoring capabilities. We offer our own condition monitoring system for things like vibrations, air gaps, or partial discharge and all the additional data needed to protect the machine and monitor the behavior of the units during operation. We focus on some advanced topics, such as monitoring cavitation in hydropower units, and we now have a solution that can identify the strength of cavitation in turbines. 
Additionally, we are looking into radar-based sensors, which offer high-accuracy and high-resolution data, among many other advantages. For example, if it is used on a motor generator, a high-frequency, multiple-gigahertz radio signal is not affected by disturbances such as high electric fields and currents. It is a reliable method for providing high-quality data. 
Hydro Leader: Please tell us about the personal and technical resources of the Digital Hydro Solutions team.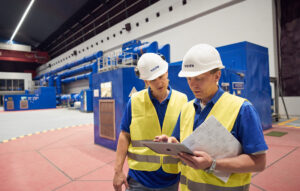 Alexander Jung: We have an interdisciplinary team of hydro experts with many years of experience designing and developing turbines and generators and commissioning hydropower plants. We are located in Heidenheim, Germany, where the technological hub of Voith Hydro is also based, so we can get input and support from a wide range of experts. We have data analysts who can support us with state-of-the-art analytic methods and developers and programmers to code these findings into commercial software. 
We've also established what we call the OnPerformance.Lab, a central data hub that provides diagnostic services to improve our clients' asset performance management. We constantly have experts going through the results and adding to the value of these periodic assessments. The professional version of the solution involves our colleagues in the performance labs working on the data. If clients are looking for a simpler solution, we also have an automated method that provides only recommendations based on our diagnostic framework; if there are additional questions on how to interpret the data or the automatically provided recommended actions, the customer can call for expert support or do additional analysis on their own. 
Hydro Leader: How does Voith Hydro's work on pumped storage facilities intersect with the work of Digital Hydro Solutions? 
Alexander Jung: Voith is a supplier for all types of hydropower stations, so we are also a full-line supplier for pumped storage plants. We do everything except for civil works. Our products and services cover all major components of power plants, including hydromechanical equipment; eletromechanical equipment; and even heating, venting, and air conditioning systems. We also provide spare parts, maintenance, and training services as well as our digital solutions for all types of hydropower facilities. 
Hydro Leader: What kinds of digital solutions do you provide to pumped storage facilities, and how do those differ from the needs of conventional facilities? 
Alexander Jung: A run-of-river power plant might run for weeks or months on a straight line, providing constant baseload power. A pumped storage plant, on the other hand, may start and stop to pump or generate multiple times a day. It may do this with separate pumps and turbines or with reversible-pump turbines. In the latter case, the same unit operates in different rotational directions depending on the operating mode. A pumped storage plant can either generate power or extract power. This provides room for a wide range of possibilities to stabilize the electrical grid. Further, if your units are equipped with power electronics and variable-speed technology, you have the opportunity to provide all kinds of additional ancillary services for grid frequency support, such as virtual inertia or fast frequency response. All this requires a more sophisticated kind of monitoring to make sure that you're not harming your power plant. Finally, to have a proper overview of all aspects of the plant's operations, you need advanced instrumentation in the units to close data gaps and generate the required information. 
Hydro Leader: Would you tell us about the work you are doing through the European Commission–funded XFLEX HYDRO program?
Alexander Jung: The growth in variable renewables is changing how power grids operate, with potential effects on the stability and security of energy supply. This will increase demands on the hydropower sector to provide flexible, reliable power services that can adapt to changing supply and demand levels. New and innovative technologies will help hydropower adjust to its critical role of integrating variable renewables into the system. This will also ensure that hydropower operators can maximize their performance and access future energy markets. 
We are one of 19 organizations involved in XFLEX HYDRO, an 18 million euro ($20 million) project funded by the European Commission to demonstrate how hydropower can contribute to the flexibility of our electricity grid. We have a high penetration of new renewable energies, such as wind and photovoltaic solar. Volatile energies present major challenges to the electric grid. They do not add inertia to the electric grid as do conventional power plants with synchronous generators; they just add additional energy and power. Hydropower, with its ability to inject and store power in pumped storage plants that still have by far the highest recorded cycle efficiency of all storage technologies, at almost 80 percent, has the potential to do much more than just provide and store energy. 
At our demonstration site for this project, the Frades 2 pumped storage power plant, which belongs to Energias de Portugal, the largest utility in Portugal, we are demonstrating a hydraulic short circuit, a smart power plant supervisor, additional ancillary services, and the reduction of auxiliary power consumption. 
Hydro Leader: What is a hydraulic short circuit? 
Alexander Jung: A hydraulic short circuit is an operation mode with which you can increase the operating range of a power plant. You can also generate or extract very low amounts of power. In this case, we use variable-speed technology with double-fed induction machines. Unlike in generation mode, in pump mode, flow physics requires a good amount of power close to the pump's nominal power for the pump to function. If the excess energy in the grid is insufficient, then even with variable-speed technology, the plant cannot be used to store energy. In a hydraulic short circuit, one unit in a plant runs in generation mode while another unit runs in pump mode. A portion of the energy runs in a short circuit between the units, providing the missing energy the second unit requires to pump. This way, you can go down to zero pumping power, which is not possible without this hydraulic short circuit mode. This is a big enhancement for the capability to provide control power. 
The other technology we are demonstrating at the Frades 2 site is the development of smart joint control between the units. This approach optimizes the joint operation of the two units based on selectable objective functions. In periods when water is scarce and it makes sense to run as efficiently as possible, you use every drop of water to produce the maximum amount of energy. As a secondary objective, you can maximize the time between maintenance outages. You can then set the operating points and the operating times of the units to minimize wear and tear on all the units. At times when the power market requires maximum flexibility, there is generally an increase in the monetary return for the services that provide the fastest and highest power gradients. The set points of the units can be optimized for that scenario. This is something we call the smart power plant supervisor methodology. 
The third innovation we want to demonstrate is our additional ancillary services. Double-fed induction machines are asynchronous machines, so they do not provide inertia, as the excitation frequency and power controllers can follow the changes in the grid immediately. But you can implement the controller in such a way that the unit behaves as if it were a synchronous machine. This provides additional inertia to the electric grid to stabilize it. 
Last but not least, we're exploring how best to optimize plant efficiency. We want to achieve this through smart control and the optimization of auxiliary systems. Cooling water pumps are among the largest consumers in a hydropower plant. When you analyze how these pumps are operated throughout the year, considering all the seasonal changes in temperature and the operation history of the power units, you find that there is room for improvement. Here we close the loop to the intelligent monitoring and analyses we addressed at the beginning. Based on this insight, we are continually developing smarter optimization strategies for how to run the unit at an optimal temperature in its various operating modes. This, in turn, affects the unit's efficiency. With this optimization and increase in efficiency, you can add many megawatt-hours of energy a year to the plant output. 
Dr. Alexander Jung is the head of Voith Hydro's Digital Hydro Solutions. He can be contacted at alexander.jung@voith.com.