Rye Development LLC is a lead developer in new hydropower generation and energy storage. Rye is committed to offering low-impact hydropower and pumped storage as environmentally safe and high-value solutions. With many projects soon to be under construction across the United States, Rye is working with the U.S. Department of Energy (DOE) and its Argonne National Laboratory to evaluate the value of future hydropower infrastructure for offtakers and the grid. In this interview, Rye's vice president of project development, Erik Steimle, and its vice president of project engineering, Ushakar Jha, tell us about the projects Rye is focusing on, including the Goldendale project, and how the lab studies will help further future projects. 
[siteorigin_widget class="SiteOrigin_Widget_Headline_Widget"][/siteorigin_widget]
Hydro Leader: Please tell us about your backgrounds and how you came to be in your current positions. 
Erik Steimle: I've been the vice president of project development at Rye for 5 years now. I have over 20 years of experience in new hydropower development in the United States. I made the transition to the development side of hydropower after working on environmental impact statements and managing water infrastructure projects as a consultant. It's an important time to be involved in new hydropower, as more renewables get incorporated into the grid across the United States. 
Ushakar Jha: I'm Rye's vice president of project engineering. My background is in civil engineering. While doing my masters research in hydraulics and flood control, I got introduced to hydropower. After graduating, I joined a consulting firm. I worked there for a few years in hydro and eventually decided to focus on the business part of hydro. I then met with the folks who were involved in hydrokinetics and hydropower at Rye's predecessor organization, Free Flow Power Corporation. I've now worked with Rye for 10 years. 
Hydro Leader: Would you tell us more about Rye Development and the role hydropower plays in its overall business? 
Erik Steimle: Rye is one of the larger developers of new hydropower in the United States. We're backed by private equity. Our sole focus is on water infrastructure and hydropower development. We have two types of projects that we are pursuing at this point in time. One is new hydropower at originally nonpowered dams that were built for flood control, irrigation, or navigation. Just over 3 percent of the dams that currently exist in the United States have hydropower on them, so that's a pretty large opportunity. We're focused on a series of new hydropower and nonpowered dams. We have a cluster in Pittsburgh, Pennsylvania; six projects in Ohio; four projects in Mississippi; and a project in Louisiana. 
Four years ago, we made the case to pursue closed-loop pumped storage on the West Coast due to our analysis that there was an emerging capacity market there based on popular demand, policies such as carbon-free grid initiatives, and the increased use of intermittent sources of electricity. We are pursuing two pumped storage projects out West: the Goldendale Energy Storage Project, which is one of the projects that was part of Argonne National Lab's techno-economic analysis, and the Southern Oregon Energy Storage Project, also called the Swan Lake project. We have limited notice to proceed with the construction of Swan Lake in January 2022 and expect full notice to proceed with construction in January 2023. It's slated to be the first recent significant pumped storage project in the United States and will have a capacity of 400 megawatts (MW). 
There are less than a dozen people currently working at Rye, though we have a long list of consulting engineers, construction companies, and other third-party providers that we have contracts with and rely on for our projects across the United States. As far as in-house staff, we have a considerable network of people on the engineering, design, and planning side. 
Hydro Leader: Would you tell us more about the Goldendale project? 
Erik Steimle: The Goldendale Energy Storage Project is a 1,200 MW closed-loop pumped storage project with a planned location in Klickitat County, Washington. It sits right in the middle of an energy overlay zone that is home to a significant number of the wind power projects that were constructed in the county in the last 10–15 years. The project itself will be able provide 12–20 hours of on-demand, carbon-free electricity to Pacific Northwest utilities. It connects into the existing transmission system less than 5 miles away at the John Day substation, where multiple Pacific Northwest utilities have transmission rights to access and use a project of this scale. This particular area has been looked at for pumped storage for about 30 years. It's considered one of the best sites for pumped storage from an engineering perspective due to a combination of factors, such as appropriate geology and geography and proximity to the existing AC/DC transmission grid, which allows the transfer of power from the Pacific Northwest all the way to Southern California. It also has access to water rights. The project entered into a contract with the local utility district to buy water for the one-time spill of the system as well as any additional water needed to offset evaporation during the operation of the facility, because it's a closed system. The entire project is on private land. There's one landowner, Copenhagen Infrastructure Partners. The lower portion of the project area was an aluminum smelter, but the smelters have been closed for two decades now, and it's been the vision of the community to have this area cleaned up. Our project will contribute at least $10 million to clean up of a portion of this area in addition to providing a new source of long-duration energy storage. 
Hydro Leader: Since this is a closed-loop or off-river system, do two new reservoirs need to be constructed? 
Erik Steimle: Correct. Two new reservoirs are being constructed. Each reservoir is approximately 60 acre-feet in size. The project features that connect the reservoirs, such as the penstock and the powerhouse access, are all subsurface. 
Hydro Leader: Would you tell us about the regulatory requirements of developing a project like this? 
Erik Steimle: There are two primary regulations. For a hydro facility, construction and operational licenses are governed by the Federal Energy Regulatory Commission (FERC). We're just a little over halfway through the FERC licensing process. In 2020, FERC accepted our license application, which was built on a few years of preliminary studies. It is currently working through its National Environmental Policy Act analysis and is on schedule to make a decision on issuance of a license in late 2022. Washington State also has a State Environmental Policy Act environmental review process, which is a little faster and is scheduled to be completed in summer 2022. 
Hydro Leader: Would you tell us more about the DOE's technoeconomic study about the long term value of the Goldendale project? 
Erik Steimle: We, as a hydropower developer, were excited about this opportunity because most of the new pumped hydro in the United States is being proposed by privately funded developers. Generally, when we are considering a new project, there are several utilities that would be potential offtakers, and we are able to do a cost-benefit analysis and decide whether we can justify developing the project. The DOE study opportunity meant that we would have Argonne Labs and several other labs participate in estimating the value of this technology. The DOE studies a number of the contributions, looking at the project from different angles, to support the valuation of this type of technology. 
For example, our project in southern Oregon is roughly a $900 million project. The Goldendale project is a $2 billion project. The business case is essentially built around popular demand and policies that have led utilities across the Pacific Northwest to a 7,000‑9,000 MW capacity deficit that will grow and peak in the early 2030s. That capacity has to be carbon free. Coal is coming offline. No one can site new thermal plants. The growth of wind and solar power is adding a lot of intermittency to the system. The need for a low-cost, equitable storage solution in an area that's already dominated by hydro means that pumped storage is a perfect fit for this project. 
Our analysis is focused on capacity. The DOE technoeconomic study is looking to thoroughly evaluate the value of pumped storage with regard to power capacity, energy arbitrage, ancillary services, power system dynamic performance, stability, benefits to the system and the utility, and the ability of storage to reduce system cycling ramping costs. One big factor it looked at was transmission benefits. It also looked at economic development. The DOE's study of our project gives other utilities across the United States a better tool than some of the specific integrated resource plans that utilities put out about the projects they have under development. When developers propose a project, they look at the full suite of benefits that pumped storage can provide to their systems. 
Hydro Leader: Will the results of this study influence decisions you make in developing the project, or is it primarily intended to help attract potential offtakers? 
Erik Steimle: Both. A lot of the information is already in the public domain in some form. For people looking at solutions to transmission or energy storage issues, reliability has become an increasingly important topic, especially given the challenges in Texas this past winter and in California, which seems to have a challenge every year. However, I think those challenges are not being looked at in a comprehensive way. Grid managers love pumped storage, but it's hard to put your finger on how it should be evaluated in a system. The DOE report is a nice way of evaluating its value and providing a couple of case studies. It's valuable that the DOE is the entity that has put this out, since it is a third party rather than an individual utility or developer that may have its own interest in a particular solution. 
Hydro Leader: Do you need to line up offtakers for 100 percent of your capacity before launching an effort? 
Erik Steimle: We do not need to cover 100 percent of the capacity, but we need to have one particular utility that is interested in more than 50 percent of the capacity of a potential project. Part of the reason we are interested in these two projects in the Pacific Northwest is that where they tie into the grid, there is a long list of utilities with capacity demands requiring long-duration energy storage of the sort that these pumped storage projects can provide. There are lots of places across the United States where these projects are needed, but if only one utility has access to a potential project because of transmission, it can be difficult for a developer to attract private capital and develop something for which you have only one buyer. In this case, we feel more secure because we know that there is a need for thousands of megawatts of capacity and that there are several potential buyers at the interconnection locations. 
Hydro Leader: How will this process help the DOE develop guidelines for future pumped storage projects? 
Erik Steimle: Outside the West Coast and New England, there are a lot of utilities and planners seeking good studies and guidance on energy storage, whether it's lithium ion, solar-plus storage, or long-duration storage of the kind provided by pumped storage and other emerging technologies. They are trying to grapple with the costs that those technologies would imply for their systems. Utilities are having to grapple with systems in which the amount of renewable-based generation could exceed 70 percent. There's a need to provide reliable storage resources, which is where we see the value of pumped storage. Of course, you need access to water in an area with the appropriate geology and geography—you can't just go anywhere. It is helpful for the DOE to put out valuation guidebooks and other types of analysis to support the grid and utility decisions. This type of evaluation is helpful for understanding what would be one of the highest-value storage options. 
Hydro Leader: What can you tell us about the engineering of a large project like this? 
Ushakar Jha: These are complex projects. This is one place where you find almost all the engineering disciplines working together, including electrical, mechanical, and civil. There are electronics like computers, because cybersecurity needs to be factored into the design process. Transportation is also involved, because you have to get road access. That's an interesting thing that has kept me working in this industry—there's no other engineering industry where you get exposure to all the engineering disciplines. 
Hydro Leader: Do you foresee more pumped storage projects being built in the future? 
Erik Steimle: Yes. We're going to see a lot more pumped storage being proposed and developed. Utilities are lopsided; some are planning better, and others are adjusting to think about how transportation will look in the next 10–15 years. They're also going to be more closely linked to the electrical grid with reliable, on-demand, carbon-free power systems that require long-duration storage assets. Demand for pumped storage as well as lithium ion storage is going to continue to increase. 
Ushakar Jha: The evaluation criteria and technoeconomical standards that have been developed as part of this DOE study will help other developers go through the processes that are required to evaluate projects. More sites will be evaluated in the near future. 
Hydro Leader: What is your vision for the future of your company and of hydropower and pumped storage? 
Ushakar Jha: For the last 10 years, we have been successful in bringing these projects through all the necessary stages and can now start construction. In the near future, I see us building and operating a few of these projects. We will continue to do the same thing that we have done successfully for more than 10 years: starting from visibility, and getting through the review processes of FERC and other agencies, constructing these projects, and then deciding whether to sell them or whether to operate them ourselves. 
Erik Steimle: Rye will continue to push forward with projects that help hydro regain its reputation as the backbone of the carbon-free grid. 
Ushakar Jha is the vice president of project engineering at Rye Development LLC. He can be contacted at ushakar@ryedevelopment.com.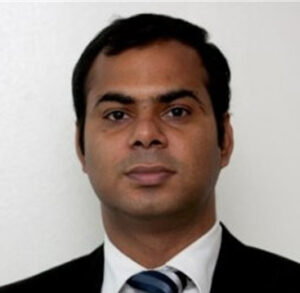 Erik Steimle is the vice president of project development at Rye Development LLC. He can be contacted at erik@ryedevelopment.com.