The hydro industry is in Rory Alsberg's blood—his father was one of the founders of North American Hydro decades ago. Today, Mr. Alsberg works for J.F. Brennan Company Inc., a versatile marine construction firm based in La Crosse, Wisconsin. In this interview, he tells us more about his background and his firm's capabilities. 
[siteorigin_widget class="SiteOrigin_Widget_Headline_Widget"][/siteorigin_widget]
Hydro Leader: Please tell our readers about how your father started his own hydroelectric company. 
Rory Alsberg: Following college, my father, Chuck Alsberg, and a coworker worked for an electric utility company in Wisconsin. While traveling throughout the state, inspecting transmission lines and planning utility upgrades, they encountered several abandoned hydroelectric projects. They were curious. After several phone calls and further research, they learned that there were several hydro projects nearby that had been shut down for years. 
They were interested in learning more and decided to purchase their first hydro project together in 1978 as something of a hobby and to use it as a chance to learn. After getting their hands dirty and working on the project during nights and weekends, they eventually got it running and generating electricity. 
At only a year and a half out of college, my father and his coworker both ended up leaving their jobs at the utility company to put their time and resources toward rehabilitating hydroelectric projects, and they started North American Hydro (NAH). They invested the profit from the generation of one project in the next and continued this process until 2012. By this point, they owned or operated more than 40 hydroelectric projects throughout the Midwest. In 2012, NAH was acquired by Eagle Creek Renewable Energy. 
Hydro Leader: Tell us about your background and how you came to be in your current position. 
Rory Alsberg: Growing up around the hydroelectric industry, I have always enjoyed the idea of renewable energy and being around water. While in high school, I worked for NAH during the summers on a variety of tasks at the offices and hydro projects. I cleaned, painted, and helped with repairs and other operations. 
In 2003, I started working for NAH full time in hydro operations management. Throughout my time at NAH, I worked in operations, electrical and mechanical maintenance, regulatory, and project management positions. Working on the owner side of the hydroelectric industry gave me an understanding of all things hydro, which has been helpful. While I was at NAH, we hired contractors, including J.F. Brennan Company Inc., to complete work at our projects. I enjoyed working with Brennan and was impressed by the high-quality work they performed. 
In 2019, I was presented with the opportunity to work at Brennan. I was excited to be able to work for such a great company and use my dam and hydroelectric experience in a new capacity. I feel fortunate to have the opportunity to work at Brennan and to continue to work in this industry. 
Hydro Leader: Please tell us about Brennan. 
Rory Alsberg: Brennan is a fourth-generation, family-owned marine construction firm based in La Crosse, Wisconsin. Working closely with public and private owners of water-based infrastructure since 1919, Brennan operates throughout coastal and inland waterways nationwide, maintaining a large fleet of marine equipment backed by more than 600 maritime professionals. 
Everything we do takes place around water. As a result, we have the right people, specialized equipment, and the proper programs in place to mitigate associated risks. Over the past 100 years, our quality work and transparent communication with clients have made us a preferred contractor for the U.S. Environmental Protection Agency, the U.S. Army Corps of Engineers, and private infrastructure owners across the country. 
Hydro Leader: What are your most common types of projects? 
Rory Alsberg: Brennan specializes in environmental remediation, dredging, marine and dam construction, commercial diving, underwater inspections, and harbor management services. Brennan is continually adding services and operational locations to better serve the infrastructure needs of our clients. I would suggest checking out our website, jfbrennan.com, to learn more. We work hard to stay on the leading edge of technology in the industry and enjoy being a resource for challenging projects in and around the water. 
Hydro Leader: Please tell our readers about the environmental services that Brennan provides. 
Rory Alsberg: Brennan offers flexible approaches and innovative solutions to successfully restore contaminated waterways and wetlands. We remove and properly dispose of contaminated materials on land and underwater and rebuild or cap the area with clean soil to ensure that the area is safe and free of contaminants in the future. 
Hydro Leader: What is your message to the hydro community? 
Rory Alsberg: It is great to see the progress that the National Hydropower Association and everyone else in the industry has made in getting hydropower recognized as a renewable resource. The new infrastructure legislation should help provide funding for construction projects for many years to come. Let's work together to improve the nation's infrastructure. 
Hydro Leader: What is your company's vision for the future? 
Rory Alsberg: Brennan's vision for the future is to continuously develop our intellectual capital, redefining what is possible while setting the industry standard for safe and ethical practices.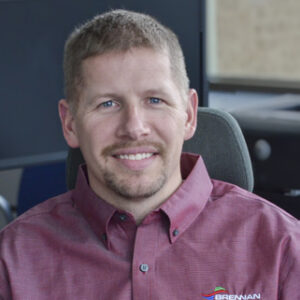 Rory Alsberg is a senior business development manager at Brennan. For more about Brennan, visit www.jfbrennan.com.