Oiles has supplied self-lubricating wear components to more than 2,000 hydroelectric installations around the world. In this interview, Kurt Garvey, the senior account manager of specialty markets for the Oiles America Corporation, talks about the company's proprietary materials, markets, and customer service. 
[siteorigin_widget class="SiteOrigin_Widget_Headline_Widget"][/siteorigin_widget]
Hydro Leader: Please tell us about your background and how you came to be in your current position. 
Kurt Garvey: I am a senior account manager in specialty markets for the Oiles America Corporation. My primary focus is the hydroelectric industry. I've always enjoyed anything mechanical; it's just in my DNA. My father owned a machine shop that specialized in the manufacture of precision machine components for the defense and industrial markets. Being raised around and later working at the shop allowed me to develop my mechanical skills. After we sold the business in the late 1990s, I worked in sales for a manufacturer of self-lubricating wear parts for the hydroelectric market, then for a company that designed and manufactured large rolling element bearings for the heavy construction market.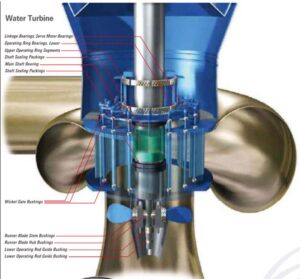 I especially enjoyed the hydro market, given its long history of providing renewable energy. I enjoy seeing drawings from the early 1900s. Turbines were somewhat overbuilt in those days. It fascinates me to see them still in operation and being refurbished. With improvements in technology and materials, we can extend the life cycle of turbines. 
Hydro Leader: Would you tell us more about the Oiles America Corporation? 
Kurt Garvey: Oiles was founded in Japan by Mr. Sozo Kawasaki in the late 1940s. The company's first project was for a wooden bushing that was used in a tobacco-rolling machine. This bushing successfully replaced a metallic bushing that was lubricated by the old-style overhead oil-filled cups that fed lubrication by gravity. We have operations not just in North America but in Asia and Europe as well as South Africa and Australia. Oiles started as a material science company that made proprietary materials specific to its customers' needs. Today, we produce not only our own specialized material—which in the case of hydro is our 500 series self-lubricated bronze— but our own self-lubricating plug materials as well. Oiles has upward of 2,000 hydro installations globally with a failure rate of zero. We take that very seriously. Hydro is hallowed ground for Oiles. 
Hydro Leader: Does hydro make up a large part of the company's overall output? 
Kurt Garvey: Our largest market is automotive. We supply anything on a car that pivots, including suspension components, door hinges, and seat bearings. Hydro is our second-largest market. But the applications of self-lubricated components are almost endless. We also support the heavy construction equipment market with our components for cranes, large and small construction excavators, and tunnel-boring machines. In addition, we support the commercial marine, offshore, rail, tire, and power generation markets, the last by providing specialty wear components for steam turbines. 
Hydro Leader: Are your hydro customers primarily from the private or the public sector? 
Kurt Garvey: It's a combination of both. Most of our clients are companies that rebuild or provide new hydro turbines. Others are construction companies that are refurbishing dams that include radial gates or roller gates. Both gate types need bushings, so we'll sell directly to them, and they in turn sell to the end user. Occasionally, we sell directly to end users; it depends on how the contract is structured. 
Hydro Leader: Please tell us about how your self-lubricated products work. 
Kurt Garvey: It really depends on the material. Since we're discussing hydro, we'll talk about our Oiles 500 series components. We have our own foundry where we develop our proprietary bronze. Our self-lubricated plugs are made of proprietary material with embedded solid lubricants. Our 500 series components include these self-lubricated plugs, which disperse over the wear surface of the part during the application cycling movement. In the case of a wicket gate bushing, the plug material disperses over the wear surface as the bushing is cycled. Over time, the wear surface becomes coated with the plug material, which completes the self-lubrication process. On occasion, we've had customers who were apprehensive about making the transition from fully greased to self-lubricated components. In those situations, we provided components that included both our self-lubricated plugs and grease grooves. 
We also offer another material for hydro applications called Fiberflon GH. This is a composite material that includes proprietary additives for lubrication throughout the matrix. 
Hydro Leader: What might you use in a water valve application? 
Kurt Garvey: This would be for turbine inlet or outlet valves. Lately, we've seen an increase in demand for self-lubricated bushings for turbine inlet valves, which regulate the water going into the turbine. Due to the application conditions, we provide our 500 series self-lubricated bushings. With turbine inlet valve projects, we've provided flanged bushings that were just over 68 inches in diameter and weighed close to 2,000 pounds. 
Hydro Leader: Do you use your propriety bronze because of the way it works with the plug material? 
Kurt Garvey: Yes. The bronze and plug materials work hand in hand and are specific to each customer's application. Each application varies in its load, speed, motion, and so on. Material recommendations are specific to each situation. Our materials give us quite a few tools in the box for our customers. It really boils down to getting good information about each specific application so that we can offer the best solution to meet the customer's needs.
For example, we have a customer with whom we started working some years back on a wicket gate application. They were using a similar material from another manufacturer, but the parts weren't lasting as long as they would have liked. They tried our 500SP1, an enhanced version of a C86300 bronze, with our self-lubricated plug material and were able to increase their time in service. After some tweaking, they later tried our 500SP5 material for this application. This is Oiles's heaviest grade of 500 material available. I jokingly refer to it as our kryptonite. The best time in service was met, and they haven't looked back.
Hydro Leader: It sounds like the company engages in a lot of research and design activity, even for a specific customer's needs. 
Kurt Garvey: The research generally originates either with a consulting engineer, a turbine firm, or a customer that supports one of the two. They will approach us and say that they want to maximize their time in service between project outages. Basically, the longer the hydro turbine is running, the happier everyone involved is. We start the process by obtaining the customer's application conditions. From there, our engineers review the details and make recommendations on the best material for the project. 
Hydro Leader: How long do these bearings last? 
Kurt Garvey: It's application specific. In the example I mentioned in which the customer transitioned to a heavy material, they were previously seeing only about a year in service, and now, they're getting 5–6 years, which they're thrilled with. We have another customer that removed our wicket gate bushings for inspection after 18–19 years of use. After calculating the wear rate, they realized that they could have run them for 23–25 years.
Hydro Leader: Has your company experienced difficulties over the past year or two regarding access to materials or labor? 
Kurt Garvey: It's been a challenge for everyone. The main challenge is with transportation and shipping. We've been fortunate with our planning. We do our best to adjust our production schedules as needed to meet customers' needs. There have been situations in which a customer might need parts sooner than we can generally provide them. In some cases, we may need to use air freight; in others, we may need to pass on an opportunity, which is rare. What I say to our customers and have them relay to the end users is that it's all about advance planning. The more you can plan ahead, the better. 
Hydro Leader: Was Oiles able to maintain its workforce over the last couple of years? 
Kurt Garvey: Yes, we've had some changes, as other companies have. There are many job opportunities available, so you see folks moving around. Overall, we've managed to weather the storm. 
Hydro Leader: Have there been issues with access to financing, either for the company or its customers? Does Oiles provide financing to customers?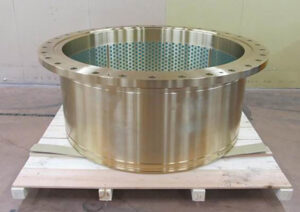 Kurt Garvey: There have been no issues that I'm aware of. While we don't offer financing to our customers, we do our best to accommodate their payment terms. As for Oiles, we're well funded and in good shape. It all comes down to good planning and forecasting. 
Hydro Leader: How does Oiles differentiate itself from its competitors? 
Kurt Garvey: I'd say that it starts with how we run a project. We're fortunate to have a great team with diverse skill sets. Solving challenges, providing materials with superior performance, exceeding customers' expectations, and providing the ultimate customer service experience are where Oiles shines. 
Hydro Leader: What is the company's vision for the future? 
Kurt Garvey: Overall, I'd say it is growth, not only in current markets but in new markets as well. The potential for self-lubricating wear components is almost limitless. Between material science, engineering, manufacturing technology, and program management, Oiles is the total package. Once a project is finished, we want our customers to say that Oiles provided the ultimate customer service experience with the best solution while making their job easier. 
Kurt Garvey is senior account manager of specialty markets for the Oiles America Corporation. He can be contacted at kgarvey@oiles.com or sales@oiles.com.