Czech Republic–based Mavel has designed and manufactured turbines and provided related equipment for hydroelectric power projects in 45 countries since 1990 with capacity ranging from 30 kilowatts to 30 megawatts. Hydro Leader spoke with U.S. Regional Sales Manager N. Christian Porse about how Mavel is navigating risk in an era of price uncertainty and supply chain issues. 
[siteorigin_widget class="SiteOrigin_Widget_Headline_Widget"][/siteorigin_widget]
Hydro Leader: Please tell us about your background and how you came to be in your current position. 
N. Christian Porse: I have been in the energy production industry for about 48 years. Prior to joining Mavel, I was employed by a public utility located in the mid-Atlantic United States and worked with both fossil fuel and hydroelectric facilities. My hydroelectric experience involved plant maintenance, operations, safety, and environmental and regulatory compliance at a 108-megawatt facility. I am a past chairman of the National Hydropower Association's Hydraulic Power Committee. I joined Mavel 8 years ago as a project manager and progressed to my current position as U.S. regional sales manager. 
Hydro Leader: Please introduce Mavel. 
Christian Porse: Mavel is a global leader in turbine design and manufacture, providing turbines and related equipment for both new projects and refurbishments. We are best known for providing customized and optimized solutions designed to address each project's design objectives and constraints while optimizing the economic results. The company is 50 percent U.S. and 50 percent Czech owned. The headquarters are located in the Czech Republic, where our engineering, design, and production are based. Our sales and project management operations in the Americas are based in Boston. From here, we work with customers in the United States, Canada, and Latin America. Sales and project management for Europe, Africa, and Asia are managed from the headquarters in the Czech Republic. Since its founding in 1990, Mavel has signed orders for or delivered over 550 turbines at 350 sites in 45 countries. We use proven turbine technologies that include Kaplan, Francis, Pelton, and micro modular turbine designs. The Kaplan turbine, which is our specialty, was actually invented in the Czech Republic, so that design is part of our roots. 
Hydro Leader: Would you tell us about the supply chain disruptions that Mavel has experienced? 
N. Christian Porse: We've dealt with supply chain issues in many areas, particularly with raw materials, subcomponents, and transportation. The issues started with and were primarily related to the COVID‑19 pandemic. The Ukraine war has extended what I would call supply chain turbulence and has created additional uncertainty. 
Hydro Leader: What issues have you seen in terms of shipping times and shipping container availability? 
N. Christian Porse: Our shipping costs have increased dramatically, but shipping times less so. In shipping items from Europe to the United States, we have generally quoted a range of 6–8 weeks from leaving the port of departure to delivery to the project site, depending on the size or amount of material being delivered and the project location. Now, we estimate 10–12 weeks in some cases. I'm not aware of too many availability issues with containers, although container pricing has increased three- or fourfold. The real effect on Mavel, however, is in productivity. Everything takes longer, and our project managers need to invest significantly more time in managing a project to assure that it gets done on time. We can still deliver according to schedule, but it takes at least double the effort on the part of everyone. 
Hydro Leader: What changes have you seen in the prices of raw materials? 
N. Christian Porse: Metal prices in Europe and elsewhere have increased dramatically. Supply uncertainty as much as supply scarcity has driven prices up by as much as 35–150 percent for items such as steel, alloys, castings, and forgings. One of our suppliers has indicated that it is now experiencing product price increases of 5–8 percent every 4 months. That's an increase of 25–35 percent or more on an annual basis. That kind of price volatility makes it extremely difficult for our suppliers to provide us with fixed prices for their products and for us to provide fixed price quotes to our customers. I have heard about one subcomponent supplier that is quoting prices at delivery based on material and component costs. That introduces a whole new realm of risk for us as the ultimate supplier as well as for the customer. Hydro projects are long-term projects, which means they are vulnerable to unpredictable material price fluctuations. We work with our customers to minimize these effects as much as possible. 
Hydro Leader: You mentioned steel in particular. Have other materials undergone similarly dramatic changes in price?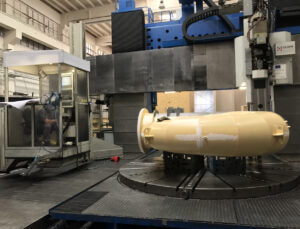 N. Christian Porse: Some of the suppliers that we work with have indicated issues with pricing on copper, nickel, silicon steel production, and generators. Most of the items that we purchase are raw materials, including carbon steel and stainless steel.
Hydro Leader: What are you doing to manage pricing risk? 
N. Christian Porse: For contracts signed before the beginning of COVID‑19, we have absorbed the cost increases, since force majeure clauses typically only allowed an extension of time. That made sense until recently, since force majeure covered events with a limited geographic reach and a limited time span. Right now, we have two events that are happening on a worldwide basis with no clear end in sight: the COVID‑19 pandemic and the ramifications of the Ukraine war. Going forward, equipment suppliers such as Mavel will not survive if they continue to have to bear the complete burden of the uncertain markets. We have been talking to our suppliers and our customers about the risks. The question is how to factor cost volatility into proposal pricing. One option is to price high, pushing most of the risk onto the customer. Another option is to have price adjustments based on specific indices. This allows for some sharing of the risk. The risk-sharing works for some customers, but not for others who need complete certainty about project costs. The bottom line is that we now have to approach pricing like we approach technical design: customized and optimized. We have to understand each customer and tailor an individualized commercial solution to reflect their risk profiles and constraints. 
Hydro Leader: What difficulties have you faced related to getting service personnel to relevant facilities? 
N. Christian Porse: Getting our personnel to sites for installation, testing, and commissioning was quite a challenge during the period of COVID‑19 travel restrictions. Typically, we provide technical supervision support for the installation of our equipment in the customer's facility. We have always been able to get technical supervisors to the sites. But with travel restrictions in both Europe and the United States, that was not possible. We have a project manager located in California who was able to travel to our U.S. project sites and work with our folks in the Czech Republic using videoconferencing, phone, and e-mail to get the equipment successfully installed. Now that travel restrictions have been lifted, we are better able to get service personnel where and when they are needed. 
Hydro Leader: Have you had to delay, postpone, or cancel any projects because of supply chain disruptions? 
N. Christian Porse: No. At the start of the pandemic, we had over 30 projects in the pipeline worldwide. We successfully completed almost all these projects in 2020 and 2021. 
Hydro Leader: Have you had any customers or potential customers postpone or cancel projects because of supply chain disruptions, price increases, and so on? 
N. Christian Porse: To date, we have not seen that, but we have begun to hear indications from some customers that they are delaying capital expenditures because of high prices or uncertainty. The good news is that energy prices are rising. That will make more projects economically viable and should, at least in part, counterbalance the uncertainty of material costs. 
Hydro Leader: Have you had to look for alternate suppliers and vendors? 
N. Christian Porse: We maintain high quality standards for our products, and we expect the same from suppliers. We prequalify suppliers in our supply chain to assure that they meet our quality standards, and ultimately, the standards of the end customer. It's important that these companies are reviewed and their capabilities verified on a periodic basis. If they fail to meet our requirements, they are removed from our supply chain. Even with the current supply chain issues, we have not had to expand our group of prequalified suppliers. 
Hydro Leader: How long do you expect the current supply chain disruptions to persist? 
N. Christian Porse: At this point, we're not sure that there's any end in sight. Mavel, like most companies, is learning how to adapt to the uncertainty and turbulence in the markets. Even more than in the past, we rely on building partnerships with our customers that allow us to navigate the challenges with them and minimize the risk to both parties. 
Hydro Leader: Is there anything you would like to add? 
N. Christian Porse: The hydro industry is resilient. The market in the United States has seen boom times and busts. Through it all, the industry has survived, and the companies that own and supply hydroelectric power plants have not only endured but have often prospered. This resiliency has allowed the industry to continue to grow through the turbulence of pandemic and war. In the United States, there is the promise of another boom time for hydroelectric power. The focus on climate, the rise in energy prices, the need for energy storage, and the significant financial-sector focus on renewables all provide the foundations for a new era of growth in all sectors of the hydroelectric power industry. Mavel, with its expertise in both new projects and refurbishments, is ready. 
N. Christian Porse is the U.S. regional sales manager for Mavel. He can be contacted at porse@mavel.com.