Emerson is a leading technology and software company that helps customers replace obsolete control systems at their hydropower plants with modern computer-based controls and software solutions. The result, says Matthew Roberts, the company's director of renewable projects, is improved performance and more efficient and flexible hydro operations. In this interview, he tells us more. 
[siteorigin_widget class="SiteOrigin_Widget_Headline_Widget"][/siteorigin_widget]
Hydro Leader: Please tell us about your background and how you came to be in your current position. 
Matthew Roberts: I've been in the power industry for 17 years with an emphasis on the hydro sector. I started as an engineer at American Governor, a small hydro controls company, and advanced through various roles with increasing responsibility, including project, engineering, and operations management. When Emerson acquired American Governor in 2020, I became part of its renewable power team, retaining my focus on hydro. After a short while, I was promoted to director of renewable projects, overseeing not only our hydro projects, but also our solar, wind, and battery energy storage projects. 
Hydro Leader: Would you give us an overview of Emerson as a company and its various business lines? 
Matthew Roberts: Emerson is a large technology and software company that is more than 130 years old and as of 2021 had approximately 87,000 employees and $18 billion in global sales. I am part of a group within Emerson's automation solutions business that provides software, technologies, and services to the power industry, automating over 1.4 million megawatts of power generation globally. My group handles the implementation of projects within the renewable sector. 
Hydro Leader: Would you give us a sense of the various solutions you provide for the hydro market? 
Matthew Roberts: Emerson supports the entire power generation sector with a current spotlight on decarbonization and renewables, as noted in our recent environmental, social, and governance report, which highlights our internal and customer-focused sustainability initiatives. Hydropower currently covers just over 30 percent of renewable generation in the United States and has a tremendous role in supporting the industry's transformation to cleaner energy and the integration of renewables into the grid. Emerson has a broad portfolio of software, technologies, and services that can monitor and control everything in a single plant or a fleet of plants, from the top enterprise level to the bottom equipment or device level. Our team has over 1,000 cumulative years of expertise and has extensive experience in engineering and services supporting the hydro market. 
Hydropower facilities were some of the first power sources to come onto the grid. Most hydro facilities were built from around 1900 through the 1970s and 1980s and still operate using a lot of the original equipment. As these facilities are modernized to extend their operating life, much of our focus is on replacing existing legacy control systems with modern, automated, computer-based controls and software solutions. But the focus doesn't end there, since plants can be further digitally transformed with other features, such as enhanced control strategies, advanced diagnostics, remote operation capability, and cybersecurity solutions. Modernization increases efficiency, operating flexibility, and security and improves performance. 
Hydro Leader: What exactly does a control system control? 
Matthew Roberts: What's interesting about hydropower facilities is that power generation is not their only function. Many of these plants or dams were built for other purposes, such as flood control or irrigation, and also support recreation and safeguard the surrounding ecosystems. That means that water conveyance and water management are critical parts of their operating criteria. At some of the most fundamental operational layers, you're trying to control the flow of water going through the dam through either the turbine or the spillway. On the energy production and grid operation control side, you're thinking about how much water is flowing through the plant, which translates into how much power you're making. When the local transmission operators send a dispatch saying, "I need such and such number of megawatts," the control system is what changes the flow of water or the delivery of fuel into the turbine to generate the electricity needed to satisfy that demand. On top of that, the control system handles operations and maintenance (O&M) functions, such as how to start and stop the unit, continuous monitoring for diagnostics, and when to operate the plant locally and remotely. Cybersecurity, another key component of hydropower automation, protects operations, data, and personnel. The control system should be equipped with cybersecurity software and defense-in-depth strategies to safeguard against cyberattacks. 
Hydro Leader: You referred to implementing computer-based controls. Were the older systems mechanical? 
Matthew Roberts: Yes; the earliest systems were purely mechanical. They would have a mechanical governor with an electrical connection to spinning equipment such as flyballs, which measure the speed at which turbines are spinning, and would then use that information to maintain the power output of the generator. Relay logic added to the mechanical governor would have handled the control of other plant operations. There have been advances over the years from early analog control to early digital control systems. Now, we use a much more open and integrated platform in which we can do a lot with software, such as using whitespace controls that allow us to layer on advanced applications and more high-performance operations. 
Hydro Leader: What does the retrofit of existing facilities, control systems, and equipment involve? 
Matthew Roberts: When it comes to retrofit projects, one size does not fit all. The solution is tailored to meet the customer's specific requirements. Hydro units are some of the oldest sources of generation on the grid, and a tremendous variety of equipment has been installed and operated over the past 100‑plus years. At the simplest level, you may replace a piece of control equipment with a more modern piece. For example, you can replace a mechanical computer of the type I mentioned before while still retaining the mechanical power system that operates the gates to control the flow of water. However, if the hydraulic power equipment is aging or obsolete or is causing environmental concerns, it can be replaced as well. An O&M repair might involve replacing just one piece of failing equipment, but if you're trying to improve operational performance by implementing new modes or providing remote capability, you may need to take a broader view of the systems controlling an entire plant or a fleet of units on a river. That may require setting up an integrated platform that connects all the automation assets and aggregates the data to provide greater visibility into operations. There really is no one single type of approach. It depends on what your objectives are.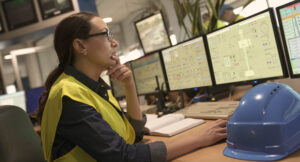 Hydro Leader: Would you give an example of a control system retrofit you've been involved in? 
Matthew Roberts: We have implemented thousands of solutions worldwide, from simple repairs to fleet-wide modernizations. I'll start with an O&M repair scenario. We were working with a utility in Europe that was pursuing options for replacing some obsolete 1990s-vintage control systems, several of which were rare and had a relatively small installed base. While the utility was going through the evaluation process, the control system had an unexpected failure. Since our group had experience replacing this type of equipment, we were able to return the utility to service in just a few weeks. That is significantly faster than the usual 6 months to a year that these types of projects require. The expertise of our team enabled us to quickly solve the problem, helping to restore the balanced river flow that was essential for preserving the health of the surrounding ecosystem. That's a perfect example of how we apply our experience to solve our customers' problems. 
We also have experience providing more comprehensive solutions. We are currently working with a utility in North America that wants a cohesive control solution across its entire hydro fleet of 100 units and 25 plants with a capacity of about 2.5 gigawatts of power. The goal is to extend the equipment life, enable remote operation, and apply predictive analytics to reduce O&M costs. Additionally, the utility wants to take advantage of advanced dispatch and joint load control features that will enable it to operate its fleet of units as a cohesive batch and thereby optimize reservoir levels, flow, and unit operations. This will be a multiyear project. As you can see, we provide solutions for everything from the "Can you help me?" phone call in the middle of the night to a 10‑to 20‑year plan and all sorts of scenarios in between. 
Hydro Leader: In addition to retrofits, does Emerson provide services for new-build hydro facilities or pumped storage facilities? 
Matthew Roberts: Absolutely. In a lot of ways, the work is similar. You're customizing a solution by starting with a set of operational requirements and establishing an integrated digital foundation platform that interfaces with equipment provided by original equipment manufacturers or engineering, procurement, and construction firms. 
Hydro Leader: Would you tell us about the importance of pumped storage hydropower? 
Matthew Roberts: Pumped storage is an important part of hydropower and is a vital solution for grid reliability because it acts like a large battery that can store energy and deploy it when needed. With the increase in unpredictable renewable generation, we're seeing a rise in the demand for the flexibility provided by pumped storage plants. What was once baseload operation is now becoming a more variable load as other sorts of generation are integrated into the grid. Hydro really has a big contribution to make here because it is well situated to modulate and adjust, especially after some of the operational upgrades that we talked about. You're getting much more granular control of optimizing equipment and process operations to meet dispatch demands. 
Hydro Leader: We hear a lot about how the drought and reduced water flow on the Colorado River are significantly affecting power generation. Would the new control systems you're installing be able to increase power generation on a fixed amount of water or reduce the amount of water required? 
Matthew Roberts: Every utility has different requirements and operating characteristics, but absolutely, through more flexible controls, you can make the most of that limited resource. We're seeing exactly that: Drought conditions are forcing utilities to be smarter with their resources through tighter dispatching, better monitoring of flows and reservoir levels, and more optimized balancing between the various units that share the water in a watershed. 
Hydro Leader: What future trends do you see affecting your work, and what are some of the capabilities your technology will aim at in the future? 
Matthew Roberts: Hydro plants are maturing as the power grid is changing, and keeping pace with the industry's transition to net zero is a challenge. Transmission operators are being forced to operate their units differently than they were originally designed to in response to the increase of renewable sources, such as wind and solar; the use of energy storage; and the reduction of inertia as coal plants come offline. That, in conjunction with the age of the hydro fleet and the net necessity to reinvest for life extension, presents a great opportunity to install modern, digital automation software and technologies that can help optimize operations and maintain grid stability. That's exactly what we're hearing from our customers. They need comprehensive, integrated solutions that focus on increasing operational flexibility, aggregating and contextualizing data, and providing greater visibility into operations to enhance decisionmaking. Smarter and more precise controls provide our customers with the ability to adapt to industry changes. 
Matthew Roberts is the director of renewable projects at Emerson. He can be contacted at matthew.j.roberts@emerson.com or via LinkedIn at www.linkedin.com/in/ matt-roberts-914828b6/.