Gomez and Sullivan Engineers is a hydropower engineering and environmental science consulting firm based in the Northeast with nearly 30 years of experience. Beyond its core dam safety and Federal Energy Regulatory Commission (FERC) licensing functions, Gomez and Sullivan also provides penstock inspections and design, FERC license implementation and compliance services, fish passage design and effectiveness studies, and information management services. Beyond the firm's hydro work, it provides services for transmission line permitting, wetland delineations, dam removal, and stream restoration. In this interview, cofounder and current Executive Vice President and Board Chairman Tom Sullivan tells us about the firm's history and current services. 
[siteorigin_widget class="SiteOrigin_Widget_Headline_Widget"][/siteorigin_widget]
Hydro Leader: Please tell us about your background and how you came to be in your current position. 
Tom Sullivan: Jerry Gomez and I founded Gomez and Sullivan Engineers in 1993. I'm currently an executive vice president and the chairman of the board. I trained as an environmental engineer at Pennsylvania State University, and in graduate school, I focused on water resources as a hydrology and hydraulics modeler. While I was in graduate school, Jerry Gomez interviewed me for a job with a firm in upstate New York called Stetson Dale. At the time, Stetson Dale had an emerging dam safety and hydropower practice. I started at Stetson Dale in 1981, doing modeling and FERC licensing work. FERC licensing was a lot different then. The first 4 months I was there, I did 4 FERC licenses. 
Stetson Dale was eventually bought by Harza Engineering and became Stetson Harza. In 1988, I moved from Utica, New York, to Concord, New Hampshire, and opened a New England regional office for the Stetson Harza water resources group. Jerry ran Stetson Harza's New York water resources group. At that time, we were working for every investor-owned utility in the region as well as several paper companies. 
In early 1993, Jerry and I decided that it was time for us to spread our wings and set out on our own. We opened Gomez and Sullivan in February 1993. It's been a wonderful experience for nearly 30 years. A number of our people have been with us since we started, and we have been joined by many talented people over the years.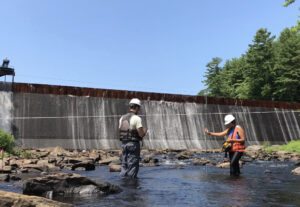 Hydro Leader: Is the firm focused on dam safety and FERC licensing today, or is its focus broader? 
Tom Sullivan: Those are still two of our core functions, but we do a lot of other things now. In addition to dam safety and FERC licensing, we do FERC license implementation and compliance work. We have implemented licenses at large projects, such as the Niagara Project; we are currently implementing the Conowingo/Muddy Run licenses; and we have implemented licenses at a number of smaller projects as well. Since the mid-1990s, we have also facilitated and mediated settlement agreements associated with FERC licensing. In addition, we do upstream and downstream fish passage design and fish passage effectiveness studies, penstock design and inspections, trash rack replacement and overlay design, and hydropower feasibility studies. 
We also have diversified into nonhydro fields. We do stream restoration, river dam removal design, transmission line permitting, wetland delineations for transmission lines and solar fields, and information management system work. 
Hydro Leader: Are your clients primarily privately owned or government owned? 
Tom Sullivan: A little bit of both. One of our bigger clients has been the New York Power Authority (NYPA). We helped NYPA with licensing for its St. Lawrence, Niagara, and Blenheim Gilboa plants and are currently assisting with licensing the Jarvis, Crescent, and Vischer Ferry plants and working on several dam safety assignments. We've also done assignments for the Chelan County Public Utility District in Washington State, the New State Canals Corporation, and the New York State Department of Environmental Conservation. However, the majority of our work has been for private entities. A number of our current clients are owners of merchant hydro plant portfolios. We still have some investor-owned utilities in states that haven't allowed deregulation yet. 
Hydro Leader: Is the firm active nationwide, or does it have a regional focus? 
Tom Sullivan: Historically, our bread and butter has been the Northeast, New York and northern New England in particular. However, we also work in the mid-Atlantic, the Pacific Northwest, the Midwest, and the Southeast. We're interested in doing more work in those places. We've also started to work in Canada. 
Hydro Leader: How does your experience in the various fields you work in transfer to other regions of the country? 
Tom Sullivan: Our diadromous fish passage experience is primarily on the East Coast, where the species and approaches used are a little different than those in California or the Northwest. However, much of our resident fisheries experience transfers well to the other parts of the country, particularly the Midwest. Dam safety, hydraulic modeling, and information management systems travel well throughout the country. FERC licensing strategy work also travels well. We serve as strategic advisors to people who have licenses throughout the country. 
Hydro Leader: Please tell us about the award you recently received from the National Hydropower Association (NHA).
Tom Sullivan: At NHA's Clean Currents conference, I received the Henwood Award. The published criteria for this award include dedication to hydropower as an energy technology; persistence in the face of institutional obstacles; appreciation for and understanding of the relationships among project engineering, environment, and economics; strong commitment to fair dealing and plain speaking; and uncommon energy, enthusiasm, and excitement for being a leading force in the industry. I am very proud to have won this award and very thankful to all my colleagues without whose help my receipt of the award would not have been possible. I suspect that I was selected for the award in large part due to the evenhanded manner in which Gomez and Sullivan deals with both its clients and the other stakeholders involved in its projects. We try to listen to people, understand their interests, and come up with solutions that work both for people and for the environment. 
Hydro Leader: Does the company engage in research into civil engineering design and construction? 
Tom Sullivan: We're not a research organization per se, but that doesn't mean we don't periodically come up with innovative solutions. A good example of an innovative solution we have applied recently is matching our computational fluid dynamics hydraulic modeling with radio-telemetry data to diagnose the operations of existing fish passage structures and to develop remedial designs. By combining these two skill sets, we have been able to locate areas both inside and outside fish passage structures that fish have trouble negotiating and to identify the hydraulic reasons for those difficulties. We are then able to apply solutions to correct the problem. 
Hydro Leader: What are some of the company's top concerns or areas of focus today? 
Tom Sullivan: For most of the last 2 years, like everyone else, we have placed tremendous focus on navigating the ongoing pandemic safely. While the pandemic has clearly been challenging, it has also presented us with opportunities. We have become very good at doing our work virtually. This has allowed us to cut back significantly on travel, saving our clients significant costs and reducing the wear and tear on our staff. The pandemic is also helping to redefine the workplace, and we are striving to find the balance between the productivity benefits of working from home with the esprit de corps and mentoring that in-office work provides. 
Our other focus is that we're continuously looking to grow and diversify our business, in terms of both our offerings and our geographic range. The challenge in this is finding the right balance between growth and staying focused on our mission to provide high-quality services in a timely manner. We have a critical mass of good people with a good diversity of skills and are confident in our ability to grow our business while staying true to our values. 
Hydro Leader: What should the hydro community know about Gomez and Sullivan? 
Tom Sullivan: We do high-quality work, we pay attention to detail, and we act in an evenhanded manner. 
Hydro Leader: What is the company's vision for the future? 
Tom Sullivan: We are working to build the next generation of Gomez and Sullivan. Jerry and I have made a conscious effort to transition the firm to the people who helped us build it. We've got a good bunch of talented people. We have people who want to grow a fisheries practice and people who want to grow an engineering practice. We have people who want to do even more than we've done in water resources work. Our vision is to set them up to do that. I hope Jerry and I have given them a good foundation, and I hope we can continue to coach them in ways that will make them successful. 
For Jerry and me, this is not just business, it's personal. Both our sons work in the business—Jerry's son, Damian, works on the dam safety side, and my son, Tim, works on the FERC licensing side. Our connections with the next generation at Gomez and Sullivan are not just business related; they are familial. Gomez and Sullivan is a business, and we've been successful on the business end, but all our employees have families and other things going on in their lives besides what they do at work. Caring about that has always been a big part of who we are. 
Tom Sullivan is an executive vice president and the chairman of the board of Gomez and Sullivan Engineers. He can be contacted at info@gomezandsullivan.com.