Garney Construction has worked on several major penstock construction projects across the nation—and difficult ones at that. In one project, the company winched an excavator down a steep Colorado mountain face to dig a trench for a penstock. In this interview, Matt Foster, Garney's chief operating officer for western pipe operations, tells Hydro Leader about several of these projects and informs our readers about the unique company culture that motivates Garney's employee-owners to put their all into these challenging tasks. 
[siteorigin_widget class="SiteOrigin_Widget_Headline_Widget"][/siteorigin_widget]
Hydro Leader: Please tell us about your background and how you came to be in your current position. 
Matt Foster: I started with Garney 27 years ago, in 1993. I had just graduated from Kansas State University's construction science program, and I was interviewed by the owner of the company, Charles Garney. He spent the day with me, and I thought that any company whose owner put that kind of time and effort into interviewing a young new college graduate was the sort of company I wanted to be a part of. Joining Garney turned out to be one of the single best decisions of my life. 
Hydro Leader: Please tell us about Garney as a company. 
Matt Foster: In terms of size, our revenue last year was just over $1.1 billion. We are 100 percent employee owned and have 1,550 employee-owners. Having worked for just one company my entire career, I'm often concerned about the risk of looking at things from just one perspective, and yet time and time again, outsiders tell me how special Garney is, which reinforces my belief that we are approaching things from the best perspective possible. I think it's something about our culture. Once you become an employee-owner, it's hard to shake that mindset. We hire like-minded people, which is how we maintain our culture year after year.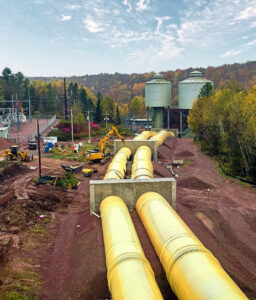 Hydro Leader: Please tell us about some of the work Garney has done in the hydrogeneration sector, particularly involving penstocks. 
Matt Foster: I was lucky enough to spend the early part of my career working in Colorado, where we were trying to build up our business presence. We were invited to Durango, Colorado, to meet with Xcel Energy regarding the upgrade of its Tacoma flow line. The first phase of the flow line replacement involved replacing a 64‑inch steel riveted flow line, or penstock, which led from one water source to another and allowed Xcel to create energy at the dam. The 1,500 feet of pipeline needed to go right under one of the ski lifts at the Purgatory Ski Resort. A large-diameter pipeline project of this nature was right up our alley, and we were ultimately selected to lead it. 
While we were there, we learned of another challenging project Xcel was contemplating near Telluride, Colorado. It needed to replace a 30‑inch penstock that hung down the steep face of a mountain. The twist was that because it was on National Park Service property, the replacement pipe had to be buried. Garney was selected for this project, and we dove in and figured out a solution. Our plan involved bolting a winch to the side of the mountain and connecting a standard excavator to it. The excavator would then be winched down the mountainside to dig the pipe trench. Once the trench was dug, we airlifted the pipe in by helicopter, and starting from the bottom, slowly winched the excavator back up, using it to place and cover the pipe. To top it all off, we had seasonal challenges. We couldn't start the project until Labor Day, and we expected it to take about 2 months, bringing us to the beginning of the winter weather season. We ultimately finished it by Thanksgiving, but it truly represented one of the most challenging projects of my career. 
Hydro Leader: Were you trenching through solid rock? 
Matt Foster: No, but rock was all around the trench site, so rocks were constantly rolling down the mountain as we moved the excavator. It was an unbelievable challenge, but we put a great team together, and Xcel allowed us to use our creativity to solve the problem. Interestingly, as we were completing that project, Xcel had a high-profile failure with its Shoshone penstock in Glenwood Canyon. This is a set of dual penstocks that comes out of a mountain and runs 500 feet down the mountain into the powerhouse. The water would then normally go under Interstate 70 at the point where the Glenwood Canyon bridges are located. The penstocks blew out, flooded the powerhouse, and shot water toward Interstate 70.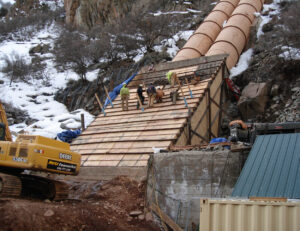 Fixing the problem was urgent because Xcel had senior water rights for the Colorado River, and missing a year of water could have placed it in jeopardy. Xcel brought us in to work with its engineering team to develop a solution. This was another challenging project, involving slip-lining the two pipes coming down the mountain with smaller-diameter steel pipe. We actually set up our staging area in the 20‑foot-diameter tunnel through the mountain, which was dry at the time. We brought all the material in that way, pulling the pipe up from the bottom through the rupture in one of the penstocks and through a hole we cut in the other. We then welded the pipe as we moved back downward. Once the pipe was in place, we poured a big thrust block at the bottom. The project was carried out over the course of the winter and was completed in time to protect Xcel's water rights. It has been operating fine ever since. 
Each of these technically challenging projects was the sort of thing a firm might encounter once in a lifetime, and we had the opportunity to handle two of them in succession. We've been doing work for Xcel Energy ever since. Those initiatives also opened doors for us elsewhere around the country. One of the lead engineering firms that had worked with us on those early Xcel projects was bidding on penstock engineering proposals around the country, and I coordinated with it to reach out to companies for which our expertise might be relevant to let them know of our capabilities and interest in bidding on their projects. We were eventually placed on a bidders list for the Upper Peninsula Power Company in Michigan and were successful in winning the McClure Penstock Replacement Project, which involved installing 13,300 feet of 84‑inch pipe. That was a complicated project with large bifurcations, large thrust blocks, and lots of rock. Due to its scale, the installation occurred over two summer construction seasons. The project represented another opportunity for Garney to showcase our expertise, but it also introduced us new experiences, such as working with a waterline and water pressure outside the normal range, dealing with the Federal Energy Regulatory Commission, and handling dam safety issues. 
A few years ago, the same owner asked us to bid on its Grandfather Falls Hydro Plant Penstock Replacement project located in Wisconsin. This involved replacing two above-ground wood-stave pipelines, which had deteriorated to the point that they were operating more like sprinklers than pipelines! We installed two replacement pipes, one 156 inches in diameter and the other 132 inches. We didn't excavate, but instead built up and installed the pipe on a pad and then buried it up to the spring line, which is halfway up the pipe. This involved major concrete work, with logistical challenges at every step. That's the one thing these penstock projects all have in common—they're in the prettiest places, but they are extremely hard to get to and thus challenging to stage. 
Hydro Leader: How many penstock jobs do you think Garney has done? 
Matt Foster: We've done 20 penstock projects, and in fact we are contracted with Xcel Energy right now to do another, namely, the third phase of the Tacoma flow line. This will involve replacing the remainder of the pipe, which is about 7,000 feet long. Along the way, we've engaged in a great number of smaller repairs for different power companies. We've also done some work replacing the circulating waterlines in power plants, which fail over time due to corrosion. We often slip-line them without having to tear down the power plant. 
Hydro Leader: How would you say Garney is different from other construction companies in the hydro sector?
Matt Foster: I think it's our people that make the difference. We're all owners, so we want to do our very best. We underpromise and overdeliver. We believe that we're going to be in business for the next 50 years and beyond, so what we do today will reflect on us for the rest of our careers. Leaving a legacy that we're proud of is extremely important to every one of us at Garney. If we do a great job, that message will spread, and the business and everything else will follow. 
Throughout our conversation, I've talked about what Garney as a company has accomplished, and I want to make it clear that it really is a team effort. In the case of every project I discussed, there were multiple Garney employee-owners working hard, often in stressful conditions, in all sorts of roles from onsite construction to communications with our customers. Each one of them has a sense of pride and loyalty to this company, and that is what has made us successful. 
Matt Foster is Garney's chief operating officer for western pipe operations. He can be contacted at mfoster@garney.com. For more about Garney, visit www.garney.com.