Darren Lampe is the owner of D.A. Lampe Construction, a small hydro construction company based in Chico, California, that specializes in remote, difficult-access construction and repair projects. While supply chain disruptions have led to rapid and unpredictable price increases for some raw materials and components, the fact that the company sources concrete, steel, and lumber domestically and tends to work on federal projects that are planned far in advance has helped cushion any impacts. In this interview, Mr. Lampe tells us more. 
[siteorigin_widget class="SiteOrigin_Widget_Headline_Widget"][/siteorigin_widget]
Hydro Leader: Please tell us about your background and how you came to be in your current position. 
Darren Lampe: I went to California State University, Chico, and got a degree in construction management. After college, I went to work as an engineer for Granite Construction on the Jordanville Dam in Utah. I worked there for a while, but I really wanted to be more hands on in the field. I was advised by the structures superintendent that if I wanted to do fieldwork, I needed to be a carpenter. I left Granite, became a carpenter, and 3 years later, I started my own business. About 10 years later, I had the opportunity to do some hydro work for the Pacific Gas and Electric Company (PG&E). I wound up getting a series of contracts with PG&E, and now I am in the hydro construction business. 
Hydro Leader: Please introduce your company. 
Darren Lampe: We are a small group of tradesmen and engineers based in rural northern California who work on civil infrastructure, utilities, water delivery, and industrial projects for federal, state, and local agencies and private industry. We specialize in unusual projects, often in remote locations with difficult access. We have a reputation for quality and safety, which allows us to negotiate many of our contracts. 
Hydro Leader: Would you give a few examples of unusual hydro projects you have worked on? 
Darren Lampe: We have completed repairs on Lennon flumes, canals, dams, and spillways throughout the northern Sierra and southern Cascade areas. They are all in mountainous regions where access is difficult. We did an intake modification for the city of San Francisco up near Yosemite. Access to the site involved a 2‑mile hike. All our tools, equipment, and materials were flown in by helicopter. In addition to the access challenges at this site, there were significant communication challenges: there was no cell service, satellite phone service was intermittent, and the roar of the river was so loud that voice communication on site was difficult.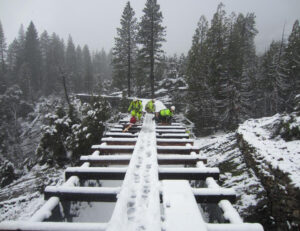 Hydro Leader: What kind of supply chain disruptions has your company been dealing with? 
Darren Lampe: Like everybody else, we started experiencing supply chain disruptions at the start of the pandemic. We saw a big jump in the prices of lumber and steel. The price of lumber went up 250 percent or more in about a year, which was difficult to deal with. We had to absorb some of that. Often, the project owners would cover most of the cost using contingency funds. Shortages seemed to be random: We weren't able to get common items like marking paint for 2 months. Fortunately, most of our projects are Federal Energy Regulatory Commission work, so they involve a lot of detailed advance planning. All the big-ticket items, such as large pipe or multiplate arches, are purchased well in advance, so it hasn't been a huge hit for us. 
Hydro Leader: Have you seen any further supply chain disruptions since the beginning of the war in Ukraine? 
Darren Lampe: No, I have not. That hasn't been an issue for us. In fact, over the last 3 months, things have gotten better. Supplies are more readily available, and prices are stabilizing and coming down. 
Hydro Leader: Have you also seen issues with shipping? 
Darren Lampe: Because most of the larger items were procured well in advance, we haven't had shipping issues. Personally, with my own company, we're trying to limit the number of imports from China, so the shipping container bottleneck in the Pacific region hasn't been an issue for us. 
Hydro Leader: Are you trying to avoid sourcing things from China in response to these supply chain issues? 
Darren Lampe: No, it's more of a personal moral thing for me. I'm not a fan of China's human rights record. 
Hydro Leader: Do you anticipate any disruptions to the projects for which you're in the planning stage? 
Darren Lampe: Honestly, I don't know. We're planning our upcoming projects at least a year in advance, so we're out in front of them. Most of our upcoming projects involve concrete, steel, and lumber, which are all produced domestically, so I don't see them being affected. 
Hydro Leader: How rapidly have you seen price increases occur, and have you been quoted prices for materials that are valid only for short periods of time? 
Darren Lampe: We're a seasonal firm; we don't work much between January and April. The big surprise was last summer, when plywood jumped to well over $100 a sheet. That happened quickly, but as I said earlier, the prices have stabilized a bit. In the projects we're about to start, I couldn't lock in lumber prices for more than 4 days. The prices were only valid for short periods. As a result, we had to put some contingency funds into the project budget. We'll add an extra 25 percent for those materials, and if we don't see a corresponding price increase, we'll give the owners a credit back. 
Hydro Leader: Have you had difficulty in acquiring any subcomponents that you use? 
Darren Lampe: Right now, there is a shortage of Waterstop, which we use between concrete joints. Stuff that we use regularly we generally keep in stock at the shop, but we are anticipating a little bit of difficulty getting Waterstop for our next project. We're still waiting for the contract for that project to come through, but as soon as the contract is signed, we'll be ordering that stuff 6 months in advance. 
Hydro Leader: Have you done any other onshoring or shortening of supply chains in response to shocks in supply chains and availability issues? 
Darren Lampe: In a simple sense, yes. We stocked up on basic items that we use all the time—things like marking paint, form ties, and fasteners. 
Hydro Leader: Have you had to delay, postpone, or cancel any projects because of supply chain issues? 
Darren Lampe: Not because of the supply chain, no. 
Hydro Leader: Are you aware of any of your clients doing that on their end? 
Darren Lampe: I'm not aware of that. I think the biggest challenge from the pandemic was the work-at-home orders, which slowed project planning and permitting. The regulators are having a tough time with staffing, and so are the folks who are seeking permits and doing the contracts. All of that has reduced the amount of work that is being done. 
Hydro Leader: How long do you expect supply chain disruptions to persist? 
Darren Lampe: As I said, the disruptions have already improved over the past few months. Honestly, because we mostly buy domestic materials, I don't think it's going to last too much longer. 
Darren Lampe is the owner of D.A. Lampe Construction. For more on D.A. Lampe Construction, visit www.dalampeconstruction.com.