The Bureau of Reclamation is internationally recognized as a leader in dam safety. The 1978 Reclamation Safety of Dams Act established an independent dam safety program within Reclamation. This program covers routine dam inspections and evaluations as well as corrective work and repairs and has become the global standard in the dam safety field. In this interview, Karen Knight, Reclamation's director for dam safety and infrastructure; Bob Pike, the chief of Reclamation's dam safety program; and Brian Becker, a senior advisor and the design, estimating, and construction oversight and dam safety officer at Reclamation, tell Hydro Leader about Reclamation's impressive and comprehensive dam safety activities. 
[siteorigin_widget class="SiteOrigin_Widget_Headline_Widget"][/siteorigin_widget]
Hydro Leader: Please tell us about your backgrounds and how you came to be in your current positions. 
Karen Knight: Thank you for highlighting how Reclamation is maintaining its dams in a safe and reliable manner that protects the health and safety of the public and Reclamation employees. I'm originally from the Midwest. Prior to coming to Reclamation, I worked in private civil engineering. I worked on a lot of federal dams on various aspects of dam safety, so I've been working in dam safety for over 30 years. When I joined Reclamation in 2000, I was a design engineer in the Technical Service Center (TSC). After that, I advanced through management, becoming the division chief for the geotechnical services division in the TSC. Then I became the division chief for the dam safety office. Since then, I have moved into a senior leadership position with Reclamation and am the director for dam safety and infrastructure. 
Bob Pike: Thanks for showcasing how Reclamation is proactively maintaining our nation's critical infrastructure. I graduated from Montana State University in 1982. My focus in college was on hydraulics and hydrology, so I had an interest in water infrastructure. My first job was in central Wyoming on what was known as a rehab and betterment project for the Midvale Irrigation District. I did a lot of design work, surveying, drilling, construction, and inspection. After about 2 years, at which point that job was winding down, I moved to the regional office in Billings, Montana, and spent about 5 years as the civil engineer there, focusing on things like water operations and reservoir inflow forecasts.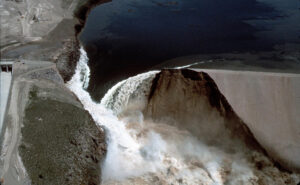 In 1989, a job opened up for the regional dam safety coordinator. It fit with my career interests, so I applied, got the job, and have been working in the dam safety program ever since. I was a regional coordinator from 1989 until 2011, when I moved down to Denver to work as a program manager in the dam safety office. In 2014, I was selected as the deputy chief of the dam safety program. In early 2019, I was selected as chief of the dam safety program. 
Brian Becker: I was born and raised in a small town in southern Minnesota and went to college at North Dakota State University. I came to Colorado shortly after graduation, worked for a consulting firm for a bit, and then came to work for Reclamation. I have been with Reclamation for over 30 years. I started back in 1985. I've spent most of that time working on dams and other water infrastructure. For probably two-thirds of that time, I worked directly in dam safety activities. I did much of that work from within the dam safety program. For the last 5 years, I have been Reclamation's dam safety officer, a position that exists to provide a programmatic internal control to promote information quality and robust decisionmaking, separate from the dam safety program office itself. 
Hydro Leader: How many dams has Reclamation constructed? 
Karen Knight: Reclamation has constructed about 600 dams since the early 1900s. There are currently 492 dams included in the national inventory of dams, which is a comprehensive database of dams in the United States. Reclamation is dedicated to the safety of all those dams. 
Brian Becker: Many of our structures are well over 100 years old, and ensuring their safe, reliable operation is the primary focus of Reclamation's dam safety program. 
Hydro Leader: Please tell us about the history of Reclamation's dam safety program. 
Brian Becker: Reclamation's dam safety program got its beginnings after the Teton Dam failure in Idaho in 1976. The Reclamation Safety of Dams Act became law in 1978 and has been amended several times since then. That act gave Reclamation the authority to modify Reclamation facilities explicitly for safety purposes and launched Reclamation's safety of dams activities to prevent accidents and ensure sound infrastructure. 
Bob Pike: Among the major dam failures of the 1970s were those of Laurel Run Dam in Pennsylvania and Kelly Barnes Dam in Georgia, both of which were non-Reclamation dams. Both occurred in 1977 and, unfortunately, each resulted in fatalities.
Hydro Leader: After the Teton Dam failure in 1976, what changes were instituted to increase safety across Reclamation? 
Bob Pike: We formally established the Reclamation dam safety program, which has evolved significantly since that time. We initially started performing what we call Safety Evaluation of Existing Dams (SEED) evaluations of all our infrastructure in order to get a handle on the issues and risks faced at each facility. The dam safety program has evolved and today can be broken into three major components: first, SEED evaluations, which I mentioned; second, the Initiate Safety Corrective Action (ISCA) program; and third, Reclamation training for the U.S. Department of the Interior. The SEED program is the program under which we undertake all the routine risk-management activities for all our high- and significant-hazard dams. Those activities include the regular inspection of our dams, performance monitoring, instrumentation monitoring, the evaluation of potential issues, and risk analysis at all our facilities. 
Karen Knight: The ISCA component of the dam safety program is our method for rapidly taking corrective actions. If the SEED program identifies a risk and determines that an embankment or a concrete dam needs to be repaired, we initiate a corrective action study. At this point, a portion of the costs needs to be reimbursed by the project beneficiary. Under the corrective action program, we develop a whole host of alternatives, including no action, structural modifications, and reservoir restrictions, and then select our preferred alternatives. The one that is most commonly selected is structural modification. Then we develop what's called a modification report, which goes to the Office of Management and Budget and then to Congress for approval. It is essentially a project justification report. From that point forward, we can award a contract, undertake construction, and modify the facility. Once we're finished with construction, we don't just walk away from the dam. We move the dam back into the SEED program and continue with routine risk management, which is the third phase. 
Hydro Leader: How many people are associated with Reclamation's safety of dam program? 
Brian Becker: Since the safety of dams is so important to Reclamation, there are people in many locations and roles whose work touches on the topic. There are people in the area offices who are involved in dam safety activities, including inspections, monitoring, and dam safety program activities. The TSC in Denver puts together all the designs and puts together the contract documents. Construction staff throughout Reclamation manage the construction projects. The dam safety program staff who focus 100 percent on dam safety activities are primarily located at our Denver office. The number of people who are associated with dam safety activities is likely in the hundreds at any given time, but there are probably 15–20 people who exclusively work on program management activities, all of them in the Denver office. Those staff work closely with the regional area offices and coordinate activities throughout the organization. 
Hydro Leader: How often are dams inspected? 
Bob Pike: At the most basic level, our dam operators are looking at our dams on an almost-daily basis, especially if we have onsite dam operators. They also go through a monthly inspection checklist, checking all the features of the dam and noting any changes or unexpected changes in performance. Reclamation also performs an annual site inspection of every high- and significant-hazard-potential dam; that is typically performed by engineers from our area offices, which are scattered throughout the western United States. 
There are also two higher-level inspections that are performed on a 4‑year rotating basis. One is the periodic facility review, which is usually conducted by dam safety engineers in our regional offices. They're informed by the participation of the technical response teams (TRTs) that are assigned to each dam. These teams are made up of technical experts at the TSC. They review the overall performance of the dam over the previous 4 years and provide recommendations on areas of focus to the inspector before they go out in the field. The TRT reviews the results of the examination report and, in conjunction with the regional inspector, makes recommendations on how to address any potential dam safety issues.
The other 4‑year inspection is what we call a comprehensive review. It is led by a senior-level engineer from the TSC who specializes in embankment dams or concrete dams, as appropriate. The engineer is supported by a team of engineers, geologists, and hydrologists from the TSC as well as engineers from the regional office and the area offices. In performing the examination, the comprehensive review team also performs a review of all potential failure modes associated with the dam and the relative risks represented by those potential failure modes. All these examinations and associated processes form the routine risk-management activities that we undertake to continuously assess the relative risk of our dams and to ensure that we're adequately protecting the American public.
Hydro Leader: If a problem is discovered with a dam, what steps do you take to assess the danger level?
Bob Pike: I was the regional coordinator at the time when certain safety issues arose at Red Willow Dam in Frenchman-Cambridge Irrigation District in Nebraska, so I have some experience with the potential need for urgent action. If our monitoring processes identify high risks that demand urgent action, we quickly do a detailed issue evaluation to make sure that we understand what we're dealing with and that the risk warrants moving into a corrective action study, the costs of which are partially reimbursable by the water users. 
In the case of Red Willow Dam, we discovered upstream-to-downstream cracks in the embankment below the reservoir water surface level. We lowered the reservoir water level to mitigate the risk and did more detailed investigations. Within about 2 months, we determined that additional actions were needed. We began a corrective action study and completed it within 9–12 months. We also simultaneously performed the final design of the modifications while pursuing authorization to construct modifications. Within about 2 years after finding the problem, we were moving into construction.
At other dams, there are high-risk issues associated with extreme floods and earthquakes with relatively remote probabilities of occurrence. It may be somewhat more complicated to understand the probabilities of these events, the performance of the dam when subjected to these remote probability events, and the right actions to address them, so the evaluation process can take a bit longer. 
Overall, we have a risk-informed program. We prioritize our actions based on our current understanding of risk at our facilities. That prioritization takes into account our level of knowledge about risk levels: Do we need additional information to better understand risk at a given dam, or are we pretty confident in our assessment and ready to move forward with figuring out how to reduce those risks? We use a dam safety priority rating that starts at 1, which applies to a dam that is in an imminent state of failure, and moves down the scale to 5, which generally indicates that a dam has low to very low estimated potential safety risk. We use our risk-informed process to address the higher-risk issues first and address lower-risk issues when the funding is available. This allows us to reduce risks to the American public in a timely manner and to spend our money wisely. 
Hydro Leader: How are the costs of those repairs divided between the project beneficiaries and Reclamation?
Karen Knight: I would like to note that there are no costs to the project beneficiaries until we have identified a risk and decided to move into corrective action. All the routine risk management that Bob talked about earlier is conducted year in and year out at no cost to the beneficiary. Once we move into corrective action, in the majority of cases, 15 percent of the costs are covered by the beneficiary and 85 percent are covered by Reclamation. That cost-share breakdown is written right into the Reclamation Safety of Dams Act.
Brian Becker: The repairs are funded through congressional appropriations that form part of Reclamation's budget. The 15 percent of the total costs that the project beneficiaries need to reimburse goes back to the Treasury rather than directly to Reclamation. 
Hydro Leader: Over what period of time is that 15 percent paid back? Is there a set time period, or is it negotiated for every project?
Brian Becker: It depends on the project purpose. If it primarily benefits irrigation, the repayment period is usually a bit longer—it can be up to 50 years with no interest. If the primary project beneficiaries are municipal, industrial, or power-generation entities, the term is generally shorter, and there may be interest involved.
Hydro Leader: Does Reclamation have a set-aside line item for its dam safety program, or does the money for it come out of Reclamation's general budget?
Brian Becker: There are three separate dam safety budget lines. One is for the SEED program. Another is for the ISCA program. There is also a Department of the Interior line item, since Reclamation is the lead agency for dam safety within Interior. As the lead for dam safety, Reclamation carries out various oversight activities for the other Interior agencies to help ensure that they're managing and maintaining their dams in a safe and appropriate manner.
Hydro Leader: Would you tell us about the congressional appropriations that fund Reclamation's dam safety program? 
Bob Pike: In general, Congress has funded Reclamation's dam safety program each year. In the last 5 years, the program has been funded up to $93 million. The president's fiscal year 2021 proposed budget includes a $107 million request for dam safety. 
Hydro Leader: Does Reclamation have enough funds for its dam safety projects? 
Karen Knight: There is a significant demand on Reclamation's dam safety budget beyond levels of past appropriations. For examples, needed dam safety modifications at B.F. Sisk Dam in California are expected to cost $1.1 billion in today's dollars, all of which will need to be funded by Reclamation and its partners. Reclamation has 19 additional dam safety projects that will be ready for funding within the next decade. 
Hydro Leader: Does Reclamation offer any kind of dam safety training for project beneficiaries? 
Brian Becker: Yes. Reclamation offers them its SEED training, which is an introductory course on dam safety inspections that covers things to look for, how program activities are conducted, and the state of the art of dam safety risk management and risk analysis. Reclamation has been providing that training for more than 30 years. Reclamation also provides other dam safety training courses for different entities and organizations. We work closely with the U.S. Society on Dams and the Association of State Dam Safety Officials to provide information and training throughout the country. 
Hydro Leader: What is Reclamation's message to all its water users about its dam safety program? 
Karen Knight: Reclamation is committed to keeping the public safe. We continue to monitor all our dams to ensure the safety of the American public and to ensure that we can continue to deliver water benefits to them. 
Brian Becker: Our primary obligation and interest is the safety of the people who live downstream from our dams. We want to ensure that we're operating and maintaining our facilities in such a manner that we can continue to provide benefits to the American public, including irrigation water, domestic water, power generation, and recreation. We want to continue to do that in an economically efficient manner while protecting the American public. We've been entrusted with an incredible inventory of structures. All it takes is a visit to a place like Hoover, Shasta, or Grand Coulee Dams to realize the significance and importance of those awe-inspiring structures. We take that seriously. 
Hydro Leader: How do you feel about working for the dam safety program at Reclamation? 
Karen Knight: When I worked in the private sector, the company I worked for had a contract with Reclamation, the U.S. Fish and Wildlife Service, and the Bureau of Indian Affairs, so I worked on several federal projects. I took advantage of the opportunity to move to Reclamation because I wanted to be a part of bringing dam safety to the public. I have dedicated a big chunk of my life to dam safety. What I love about Reclamation is that each project is unique, so I feel like I'm continuously learning, not just for my benefit, but for the benefit of the organization. 
Bob Pike: Just last week, I gave a presentation on almost the same question. I focused on why I am still doing what I've always done in my career at Reclamation, considering that I started in the dam safety program back in 1989. My answer boiled down to the fact that I get to work on some of the most interesting infrastructure in the world with some of the greatest engineers and scientists in the world. Also, I learned a lesson early in my career about the overall importance of the job: We are protecting the lives of people. We aren't dealing with numbers; we're dealing with people. 
Brian Becker: It's a great place to work. It's a supportive and family-friendly organization that is committed to doing the right thing. It's also a learning, forward-looking, and dynamic organization. We're recognized worldwide for our expertise, particularly in the field of dam safety. We've been doing risk analysis and risk management and making formal risk-informed decisions for well over 20 years. It's a state-of-the-art practice. The U.S. Army Corps of Engineers, the Federal Energy Regulatory Commission, the Tennessee Valley Authority, and other agencies look to Reclamation as the leader in dam safety. The same is true internationally. Other countries look to Reclamation as the standard bearer in terms of operating and maintaining our structures safely. 
Brian Becker, P.E., is a senior advisor and the design, estimating and construction oversight and dam safety officer at the Bureau of Reclamation. He can be contacted at bbecker@usbr.gov. 
Karen Knight, P.E., is Reclamation's director for dam safety and infrastructure. She can be contacted at kknight@usbr.gov. 
Bob Pike, P.E., is the chief of Reclamation's dam safety program. He can be contacted at rpike@usbr.gov.